Plant-Based Cooking & Yoga Retreat
September 2 @ 4:00 pm

-

September 4 @ 4:00 pm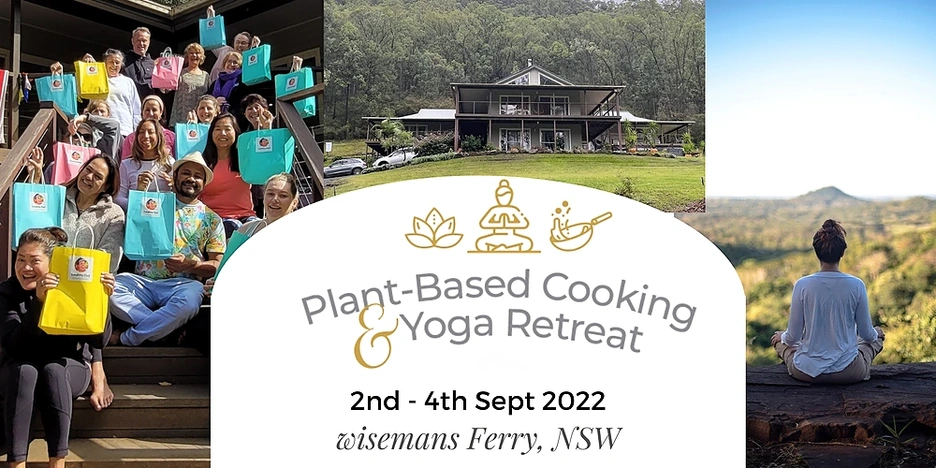 Event description
Feel like a healthy weekend getaway? The kind with healthy food, lots of fun, awesome activities and time to relax?
You just found it! 
Welcome to SYDNEY'S ONLY, #1 COOKING RETREAT!

Join internationally trained, locally loved vegan chef, Jeevi, for an unforgettable weekend of amazing food, ultimate relaxation and loads of laughter.
A Nepalese-born third generation vegetarian, Jeevi, is famously known as 'the laughing chef,' combing his passion for vegan cooking with his gift for laughing yoga. Jeevi has featured on Channel 9, Channel 7, Living Light Culinary Institute & Destination Happiness.
On this exclusive three-day and two-night retreat, you have Jeevi all to yourself, sharing his incredible knowledge of plant based foods, plant based cooking, and of course, his infectious laughter.
Whether in your laughing yoga class or in the kitchen, you'll find it hard to keep a straight face in Jeevi's company!
This is a rare opportunity to learn from a true leader in the art of gluten-free vegan cooking, and you get to do it at the beautiful Yanada retreat; a stunning oasis than 2 hours from Sydney.
With a pool, spa, walking tracks and dedicated yoga room, you'll be totally spoiled and completely relaxed for your journey into clean cooking – and eating too!
What to expect on your Retreat:
Each day you'll be a part of the plant based cooking experience, learning from Jeevi as he – and you – make together some delicious vegan meals .
You'll learn Jeevi's insider tricks, delicious recipes and be privy to some of his oldest recipes, handed down from Jeevi's own grandmother! Even better, for everything you create, you'll get a lovely take-home folder, filled with all the mouth watering recipes you made, so you can keep wowing your friends – and yourself – with amazing plant based meals long after the retreat.
You'll love the cooking and eating, but there's loads more to do on your retreat!
A day on your plant based cooking retreat might look a little like this:
Gentle morning yoga
Wake up, stretch and get your body moving. Gentle yoga is one of the best ways to welcome the day, setting you up physically and mentally for a wonderful day ahead.
Jeevi's famous laughing yoga class
Even the stiffest among us are completely undone by a therapeutic laughing yoga session. It sounds weird at first, and might feel that way too, but once you relax into it, laughing yoga is one of the most freeing, joyful and uplifting experiences around.  And who better to guide you than The Laughing Chef himself?
Cooking sessions
The nitty gritty of your retreat. Get up close and personal with Jeevi and learn from his 25+ years of cooking delicious plant based meals – all gluten free, dairy free! These basics will set you up for improving your health over time, bringing more plant-based meals into your life. If you're already a plant-based eater, you'll get some great tips and fantastic new recipes!
Eating sessions & Meditative Eating
All that cooking does not go to waste! You'll be eating your way through your scrumptiously healthy menu all weekend! And because the food is vegan, gluten free and plant based, you'll leave feeling lighter and brighter with more energy too!
Bush walking
Head off on a beautiful journey through nature on one of the many easy walking tracks straight off the Yanada property.
Relaxing Massage*
What's a relaxing weekend without a massage? We're lucky that  few sets of magic hands will be available, if you want to indulge in massage while you're away. **Please note, massage is extra and not included in the price of your retreat.
Community by Campfire
The fire pit at Yanada is the best place to end the day, share your experiences and have a laugh with your retreat mates. You'll get an extra special 'fire-show' too, a real highlight of the night.
Guided Meditation/Sound Healing
A wondrous way to end the day. If you have never meditated before, or have trouble relaxing, have no fear! This guided meditation/sound bath will have you floating on air (and ready for bed!) in no time.
Don't want to join in? Don't worry!
These activities available, but if you just prefer to chill out, go for it!
You'll find the Yanada pool, hydrotherapy spa and many hammocks ideal places for hanging out when you want to escape.
Retreat info – What you need to know:
Accommodation: Choose from the following:
Twin Share accommodation
A room to share with a friend/ partner. These rooms can be configured as two beds (twin) or made into a king size on request.
The BIG LOVE room
This very spacious room is perfect for singles or people traveling alone. The room is set up with 5 large single beds. This room has a dedicated bathroom too.
Bell Tents
A little bit of outdoor luxury, the bell tents have electricity, heating and even wifi. Each tent sleeps 2 people on raised king single beds. The tents are just 10 metres from the main building. (Bathroom access for tents is in the main building)
Please indicate your sleeping preference when booking. If booking a twin room with a friend, please include that person's name when booking, so we can ensure to accommodate you together.