EXPERIENCES
We are putting together a number of local experience add-ons to enhance your visit. Some experiences take place at Yanada so you don't need to leave. Others take you on various tours of our historic  'Forgotten Valley' and  'Secret River'.
Driving experiences are for a total of only 4 people as we go by car, not bus, so we can chat more easily and go to more places. Most experiences are for half a day; mornings in winter and summer, afternoons in spring and autumn. Some experiences will include meals and drinks, either at Yanada or at the historic Settlers Arms inn.
This page is a work in progress so further details of our experiences will be added soon along with direct booking options. In the meantime please contact us directly for more details and to book.
You can also find activities and experiences on Tourism NSW new Hawkesbury Page "The River is just the beginning" 
Book a Massage
If you are staying with us as part of a group, our masseurs are available for a minimum of 3 bookings. Booking is required 1 month before arrival. At other times please email us directly to check availability.
You can book directly using the links below:
Eating Out
Newly re-opened licenced cafe in St Albans Village. Open daily (currently Thursday – Sunday)  for breakfast, lunch, dinner and take-aways. 
Experience cafe culture surrounded by the beautiful views of the Hawksubry. Open daily for breakfast and lunch. 
Experience Gourmet food in a country setting with Chef, Martin Boetz.
Catered Eating In
Cory from The Heritage Cafe in Wisemans Ferry can come to Yanada and serve 3 or 6 course meals if booked well in advance. See menus attached and contact them directly to book.
St Albans Village Markets
Regular village markets are held on Saturday and Sundays,  Monthly. Featuring both local and Sydney stalls, selling local and gourmet produce, arts and crafts, clothing, books, home and gift wares etc.
Walks on the property
Currently there are two linked bush walks possible on the property without a guide; to the river and up to the ridge.
Yanada boarders the Yengo National Park, in Darkinjung Country. The McDonald Valley is at he very southern end of Darkinjung land, the beginning of a long or walkway that goes from the Hawkesbury River to Mount Yengo in the Hunter Valley.  The Country is in the shape of a pan and we are at the bottom of the pan handle. 
ALL WALKS AT YOUR OWN RISK. NO RESPONSIBILITY TAKEN. They should not be attempted alone. Take a walkie-talkie from behind reception desk and leave the other with someone in the house.
i. Ollies Track (Orange Walk) 
This starts at the far side of the pool. Go through the pool gate and up a moderate climb winding clear path through a bit of temperate rainforest and then sandy bush. In 10 minutes you will reach Stanleys Paw which is a pit of a look out and flat rocks to sit on. The two pink ropes mark the end / start of the pink walk down the ridge.
You can go a bit further up the ridge (the Green walk) but after about 100m it becomes too hard and this is currently a guided walk only to a flat peak and higher ridge with great views. 
To go down along the ridge follow the pink ropes:
ii.The walk up the fire trail and along the ridge (Pink Walk) 
These directions start at Stanley's Paw and go down. You can reverse them if starting from the house. Follow the pink ropes along the ridge line. When you get to a metal fence turn right (pink ropes mark it) and follow a fire trail down to a sitting Buddha. Go down the field to a driveway which comes out by the main entry gate. 
If coming from the house, once you have gone up the dirt driveway before the entry gate walk up to the tree line to find the sitting Buddha and pink ropes. 
iii.. The walk to the river and to Col's Kayaks
Walk down the driveway to the road, turn right, cross the road and pass a gate. Keep the gate and fence on your left. There is a narrow path next to the fence by a gully. Look for yellow ropes and painted arrows. At the river you can walk through the water (normally no more than waist high) to the sandy beach on the other  side. Here you will see Col's Kayaks. There is a deep swimming area further down to the right. Or you can stay on our side and walk through the trees along the bank Respect the walk to the river; it is our right of way but it is not our land.
Guided Bushwalks
Webbs Creek walk on private land, including cave art and lookout over Webbs Valley, followed by tea and homemade cake at the owner's house.
3 hr round trip. Min 4 people. $60 per person
6km round trip walk along Womerah Trail to Darkijung totem carvings near Webbs Creek with views over the MacDonald and Webbs valleys
2.5 hr round trip. Min 4 people. $30 per person.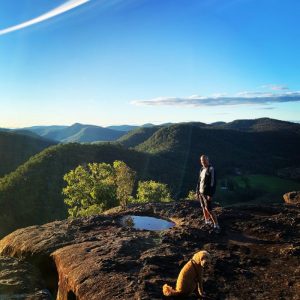 Jacks Track walk to the lookout over Upper Macdonald
2 hr round trip. Min 4 people. $30 per person.
—
St Albans Common 'steps' walk
Walks Hosted by Lewis or Luke
Yoga with Eshref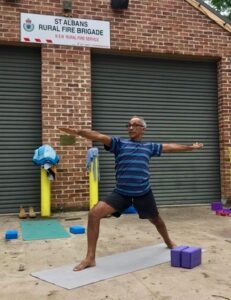 Eshref has been practising iyengar yoga for over 30 years and teaching as a qualified instructor for 7 years.
He teaches at Leichhardt Park Aquatic Centre and at the St. Albans School of the Arts. he also teaches 2 children's yoga classes at Balmain Care for Kids and 4 classes with the Educators at Balmain Care for Kids weekly.
Esh is registered with Fitness Australia to instruct yoga and Personal training. He also runs circuit training classes (regularly at St. Albans on a Saturday morning) and personal training with private clients. He is also a spin and boxing instructor.
Eshref can provide yoga classes at Yanada for all levels if arranged in advance. The charge is $20 per person, minimum of 10 people.
Col's Kayaks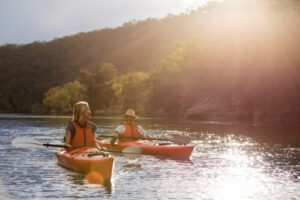 Image Credit: Destination NSW.
Col has 3 x double and 3 x single kayaks available for $25 each per day
They are located on the beach opposite Yanada.
Welcome to Country
Our Neighbour's Col and Lully can come to Yanada and provide a beautiful and fun 2-3 hour history talks, smoking ceremony and welcome to Country. Its interesting, humorous and enlightening.
Contact us to book.
.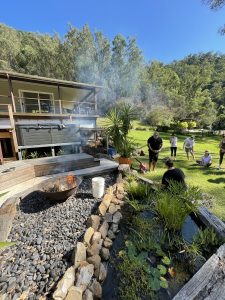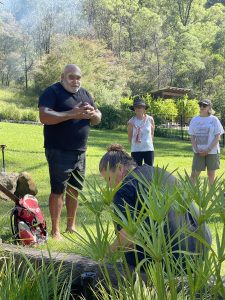 Recycled Basket Making
Sally Blackwell from Waste Not Fibre Designs can come to Yanada and teach you to make beautiful baskets from recycled materials. Contact us or her for more details. 
Instagram: @wastenotfibredesigns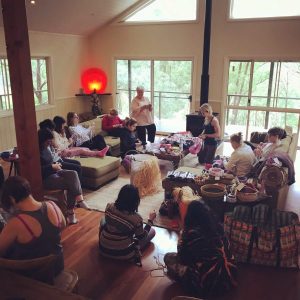 Driving Tours
1. Wolombi Road visit – driving tour following the course of Mogo Creek towards the Hunter Valley 
Visit: 
St Albans Common
Sheing farm tour, including tea and cake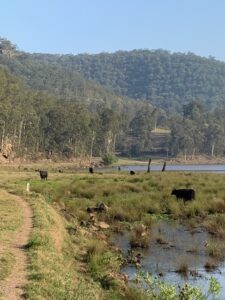 2. 'The Branch" – driving tour following the course of The MacDonald River.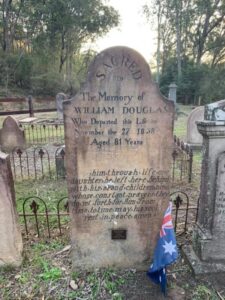 Bird Watching
The Macdonald valley is a birdwatchers paradise. Because we are so isolated with no extensive farming here since the 1860s (ie limited pesticide use) and thanks to our lush vegetation and ample water, there is a huge variety of birdlife living here.
Some rarer species include the Glossy Black Cockatoo, the Spotted Quail Thrush, Variegated Fairy Wren, Rock Warbler and Rose Robin. If you visit midweek for a day or two there is virtually no traffic or other noise and very few people around. There are bushwalks on the property with great bird watching opportunities, the river across the road and a couple of lakes and longer walks within a 5-10 minute drive. If organised well in advance we can assist you with obtaining permission to visit the unique ecosystem of the St Albans Common and Lake. This is protected land in the trust of local commoners since 1830 and home to a huge variety of native and visiting bird species. On request, we can share a film with you called 'The Wildlife of the McDonald Valley' by Brendan Hollands. This was all filmed on the common.
With a group of four, you can book a mid-week bed and breakfast break for 1 or 2 days and add on an evening meal, guided walks or drives. We can also introduce you to other local bird enthusiasts. Contact us for more details.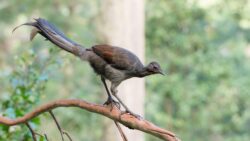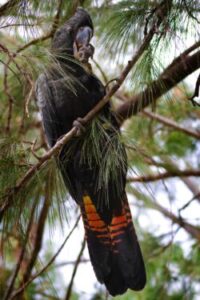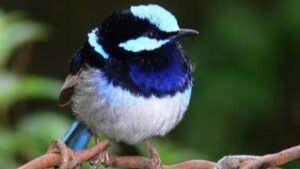 The Common Muster
St Albans Common or Wallambine Common is a 2500 acre common run by a trust and managed by herdspeople. It has been in continual use since 1824 when Governor Brisbane set aside 2,000 acres of land in the Macdonald Valley, north of the village of St Albans, for the use of local landowners who were allowed grazing rights on this land in compensation for the smallness of their blocks. This land has always been cleared as was previously managed by the Darkijung people as part of the Bulga area between St Albans and Wollombi. Some original trustees were descended from Darkijung people and decedents of many of the original trustees still live in the valley.
Mogo Creek runs through the common and forms a beautiful lake. The main Wollombi Road passes through the common but only Commonors are allowed to stop and walk on the common. As such it can only be visited with a guide.
Every 3 months there is a muster to count and check stock on the common. This is still undertaken on horseback as it has been since 1828. Small groups will be allowed to attend and experience this muster.
Naturist Options
Cooking Classes
Acrylic Pour Workshop
Have you ever wanted to learn how to make one of these striking abstract artworks?
Luke hosts a 6-hour workshop where you'll be guided through the process involved in acrylic pouring. Luke will demonstrate the process, review the use of complementary and contrasting colours, he'll explain the use of all the materials involved and the various techniques that can be applied to get the result you want.
Each pour is unique, you choose your favourite colours and the way in which you pour to create your own 50cm x50cm artwork.
You'll create your own work on the day (which you can take home after it's dried) and take away all the information you need go and create more.
The price is $175 per person, all materials are included, and you'll get a yummy home-made lunch at Luke's art studio in Webbs Creek. A minimum of two weeks' notice is required to arrange this workshop.
Wine and Cheese Matching